The Thompson River
Legendary Aug & Sep Paddle Rafting Trips
"Rafting down the Thompson was an absolute thrill. The feeling of rushing towards the rapids as your guide yells "Forward!!" was absolutely exhilarating."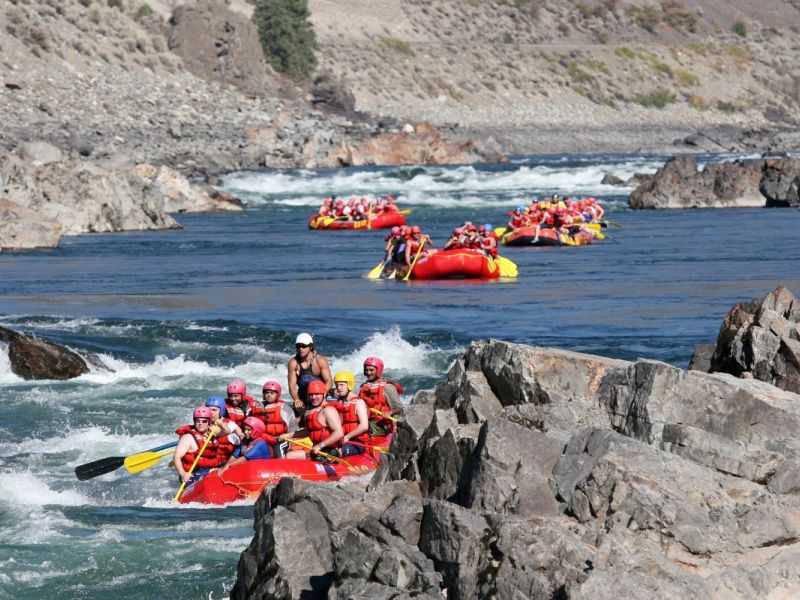 Raft the Thompson with REO (5 hours)
15 exciting class 3 to 4 rapids, the best late-summer rafting
Small paddle rafts with 1 certified guide for every 8-9 guests (companies with motorized rafts take up to 22 passengers)
Oar rafts with paddle assist available for families & those that would rather enjoy the scenery and not paddle too hard
Price match guarantee with any company in similar size rafts
Ideal for active adults and youth ages 12+

Industry-leading safety record for 37 years
Catered lunch with fresh seasonal fruits, sweets & beverages – vegan, vegetarian & gluten-free selections with advance notice
All equipment – booties, life jacket & helmet (wetsuits optional)
Want to add the Resort experience? Check out our Glamping & Rafting trips
REO rafts the best rivers at the best water levels
We are celebrating 37 years of Business & Trip advisor Hall of Fame Award.
Our biggest sale of the season is on now!

Rates
All prices are per person. Sale ends July 21, 2020
*Due to Covid-19, deposits required to confirm your booking have now been reduced to 15% with the balance due 7 days prior to arrival.
*If you cancel 7+ days in advance, the 15% deposit will convert to a credit voucher valid until August 1, 2022. View our updated cancellation policy linked below.
Call 800-736-7238 or email bookings@reorafting.com for Midweek and Group rates
All prices are per person (PP). Add 10% taxes & fees. USD prices based on current exchange rates. Trip locations may change due to water levels.

Questions? Call 604.941.9777 or 1.800.736.7238
or
email bookings
|
Cancellation Policy
Sample Itinerary for Thompson Day Trip
Day Trips
11:00 AM - Meet REO shuttle bus in Lytton, BC
11:45 AM - Riverside lunch
12:30 - Rafting trip starts
4:45 PM - Trip finishes

Directions
Exit highway 1 into the town of Lytton, BC
Turn left onto 2nd Street
Turn right onto Fraser Street
Street parking available; hop on the REO shuttle