The Story of REO
"I cannot say enough about the owner, Bryan and his family, the staff and the pristine surroundings - it was a wonderful trip that we will never forget."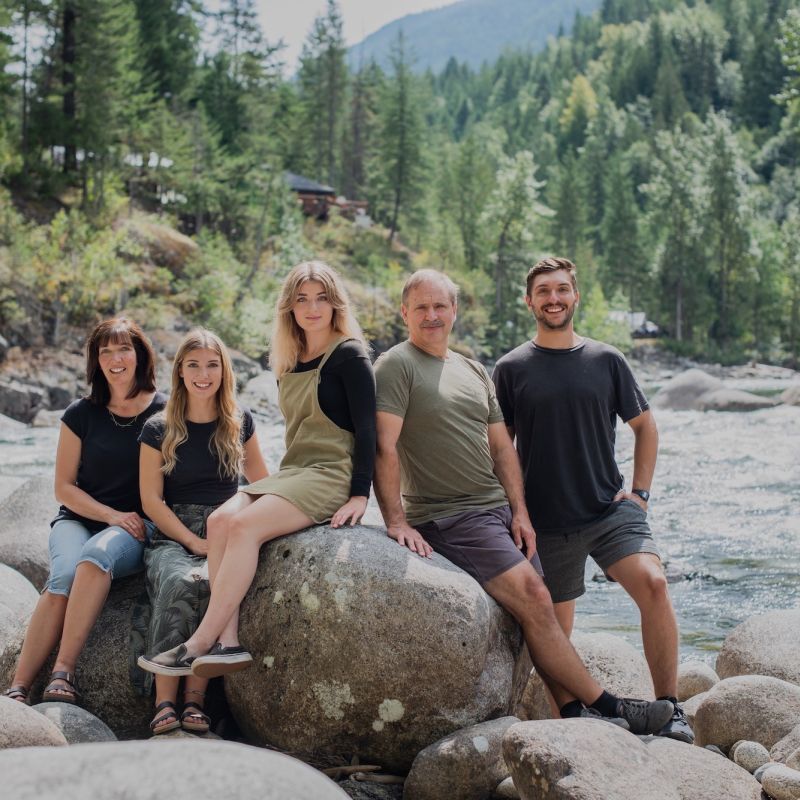 How REO Began
Back in the 1970's rafting was just starting to make a presence across North America. Bryan Fogelman decided to buy a raft and travel around, river to river. Alongside a couple of friends, he was the first descent on many rivers in British Columbia for recreational rafting/kayaking, including the Nahatlatch, Elaho, Chilliwack, Chehalis, Similkameen Canyon, Tulameen, Bulkley Canyon and Stein. They would have to paddle to the side of the river and scout out every rapid as they didn't know what could be coming up next. They even had some close calls with a couple waterfalls…

REO Rafting Resort was founded in 1983 after Bryan came across the most beautiful and exciting river in BC - the Nahatlatch. Located in the Fraser canyon, amidst kilometers of pristine evergreen mountainside, the jade-green rapids of the Nahatlatch made a lasting impression. Unlike the other various rafting expeditions Bryan had experienced before, he was determined to share his love for this river with others. He purchased a private section of the canyon from a local homesteader and gradually began constructing the unique river's edge resort located there today.

In the summer of 1993, Karen Pennell came to REO as a guest and in July of 1995, Bryan and Karen got married at the edge of the river on this incredible property. Their first child, Bryden (who later became a raft guide), was born in the end of the year. Their two daughters, Sierra and Tenaya, were born a few years later. It has since been a family operated company and a second home.

What Does REO Have to Offer?

Premier Resort
REO offers guests the opportunity to immerse in nature and escape the anxieties of city life. Favourite resort features include the hot tub, private beach, star gazing stage, and the hammock garden! A premier outfitter for thrilling to relaxing outdoor activities for all ages and abilities.


River's Edge Glamping
Our cozy glamping tents are perched just meters above the rapids! They have been a part of our resort for 29 years; evolving from their humble beginnings as an alternative for "campers" who didn't have their own tent, to decorative rooms with private seating on riverside decks.


World Class Rafting
The Nahatlatch river is the perfect rafting experience, with non-stop continuous fun on 25 rapids (rated Class 3-4+). It's ideal for first-timers to experienced paddlers. The constant flow of the river can be heard from any location of the resort.


Unique Yoga Retreats
Daily yoga and wellness classes are located on our outdoor yoga shalas, facing the beautiful Nahatlatch Valley. These classes will sooth your body and mind . From beginner to advanced we have a range of yoga styles and class levels.


Daily Meals
Enjoy wholesome meals overlooking the river, prepared from our energetic and hard-working kitchen. We happily provide daily plant-based specials and accommodate diets and life styles with advance notice.


Memories for a lifetime
Your days here will be well-spent outdoors engaging with family, friends, our staff, and even some wildlife! After a day of activities you can unwind with campfire storytelling, a soak in the hot tub, an aromatherapy massage, or entertaining live music! We encourage you to join us at our unique home away from home!

Fresh air and quality fun!


"Owners Bryan and Karen are just great people who have invested a lot of love, time and knowledge in developing this place right."
Tawirick, 5 Stars