Nahatlatch Canyon (Class 4+): The Ultimate Whitewater
Now available for the first time in 4 years.12 amazing rapids X 2 runs!
Nahatlatch Canyon (Class 4+ with portage of Class 5)
All-Inclusive: Rafting, Lunch, Resort Amenities
Per Person
$CAD
Per Person
$USD
August 15-Sept 15/2019: Raft the beautiful, exhilarating canyon. Min 6 per trip.
$180
$135

Min age = 15. Dates and trips dependent on river levels. Min of 6 guests required to run. Cancellation Policy
Please call for more information 604-941-9777 or 800-736-RAFT or email Bookings
From beginning to end, the Nahatlatch Canyon rocks! Guaranteed, one of the steepest and most continuous commercially-rafted day trips in Canada. 12 amazing rapids through steep canyon walls. Two runs, twice the fun of any river!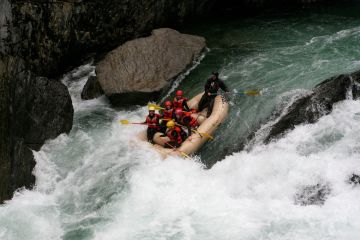 Canyon rafts typically take 4-6 paddlers and one professional REO guide. We provide one safety kayaker for every 3 rafts. Strong paddling is required. We conduct a short swim test and practice basic rescue techniques. Min age = 15.
Late-summer trips feature a double canyon run. Current dates available: August 28 - Sept 15.
All trips subject to water levels, please check for updates. Min of 6 guests required to run a trip.

Nahatlatch Canyon Day Trips include:
1 whitewater rafting trip with a professional REO river guide - small paddle boats of 6
Full-body O'Neill wetsuit, booties, life jacket & helmet for your comfort and safety
Catered lunch at the resort and mid-river snack and beverage
Use of the resort facilities and amenities 1 hour prior to and after the rafting
Min/Max group size = 6/18 (intimate rafting!)
Day Trip Sample Itinerary: Weekend Departures
| | |
| --- | --- |
| Morning Rafting: 9:30 AM Departure | Afternoon Rafting: 2:00 PM Departure |
| Check in 9:15 - 9:30 AM | Check in 1:00 - 1:15 PM; Lunch at Resort |
| At rafting put in 10:00 AM | At rafting put-in 2:30 PM |
| Arrive back at the resort 1 PM; Lunch at Resort | Arrive back at resort 5:30 PM |
| Check-out 2:30 PM | Check-out 6:30 PM (dinner is not included) |
Please call for info and reservations 800-736-7238 or 604-941-9777 or email bookings@reorafting.com