River Difficulty Scale & Guides: What You Need to Know
Rafting is one of the most enjoyable outdoor activities available. If you pick your rivers and your guides carefully, you will find the best experience for you whether you are a first-time rafter or an experienced whitewater enthusiast. Here's a guide to help you pick the best river.
Our River Rafting Difficulty Scale: From Easy To Extreme
Compared our river rafting difficulty scale to a ski mountain's ratings for easy reference.


Class 1:
Easy, moving current requiring little maneuvering. [BUNNY HILL]
Class 2:
Easy, some sections with waves or rocks, maneuvering required [GROOMED CAT TRACK]
Class 3:
Whitewater, small /medium waves, requires maneuvering to avoid hazards [GREEN /BLUE]
Class 4:
Steep gradient, sections of continuous whitewater, multiple hazards, medium to large waves, requires strong, sharp maneuvering [BLUE/BLACK DIAMOND]
Class 5:
Extreme and violent drops, very steep gradient, severe hazards, very strong and precise maneuvering required [DOUBLE BLACK DIAMOND]
REO offers rivers that feature a range of rapids from mild to wild (Class 1 to Class 5):
Fraser River:
Scenic rafting with Class 1 & 2 rapids, ages 5+
Green River Canyon:
Class 2 & easy Class 3 rapids, ages 8+ (this run starts below Nairn Falls)
Nicola River:
Continuous Class 2 & 3, ages 9+, best in May (
email Bryan for details
)
Thompson River:
Large volume river with Class 2 - 4 rapids, ages 11+
Coquihalla River:
Small, steep river with continuous Class 3 rapids, ages 11+ (
email Bryan for details
)
Nahatlatch River:
Class 3, 4 & 4+ rapids, our most popular run, min age depends on water level
Stein River:
Class 5, the steepest river that is commercially rafted in Canada.

Choosing The Right River & The Right Guides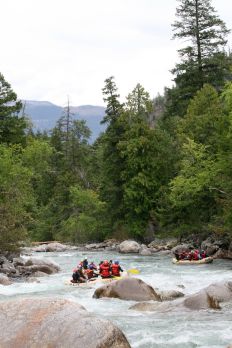 Choosing a professionally managed and operated company with high safety standards should be your number one priority when booking a rafting adventure, regardless of the difficulty level. Many factors affect a river's difficulty rating and the inherent risks to paddlers.
Water levels
can change dramatically. Rivers that rise quickly due to rain or hot weather can pose greater risks.
Hazards
can change unexpectedly. Trees and other debris can create new hazards. Also, cold water immersion is a hazard and it is important to provide sufficient gear for the elements.
Judgment and experience of the trip leaders.
Regardless of the guides skill level, trip leaders must make judgment calls and decisions about whether or not to run a river section when water levels or hazards have changed. They must take the skill level and/or ages of the guests into account.

Consider REO For Your Rafting Adventure
REO has 36 years of operating excellence. We have a stellar and perfect safety record and a solid reputation as an innovator in customer care and service in British Columbia. REO CEO Bryan Fogelman pioneered the first-ever paddle rafting trips on 7 rivers in British Columbia in the early 1980's. Here are some of the reasons why you should consider REO:
Commitment to River Safety
Founder and President, Bryan Fogelman, started REO in 1983 when many new rivers were first being pioneered for commercial river rafting. In 1988, as President of the River Outfitters Association of BC, Bryan helped to implement the most comprehensive river rafting regulations in the world at that time. This included an extensive raft guide examination and licensing program and river-specific operating guidelines for over 100 rivers in British Columbia.

Strong Leadership & Guide Management
Judgment and leadership by risk management decision-makers is the key to ensuring guest safety. All the training, certifications and experience of the guide crew is meaningless if proper decisions are not made.
At REO, Bryan and his river team have developed specific rafting protocols for every rapid and every water level on the Nahatlatch. At certain water levels, sections of the river may be closed to maintain strict safety guidelines. By implementing such comprehensive guidelines, REO has been able to provide quality rafting experiences to over 100,000 guests from around the world.

Experienced Support Team
Our wilderness resort and the range of Class 3-5 whitewater at our doorstep, is a major drawing card for the best raft guides in the world. The Nahatlatch and Stein, our premier rivers, are two of the most continuous and exciting rafting runs in Canada. Our guides are challenged day in and day out, and this challenge attracts true whitewater professionals.

Safety Kayakers & Safety Rafts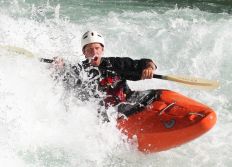 REO provides safety kayakers or safety rafts on the Nahatlatch and many other rivers to enhance customer safety and service. Each safety kayaker or safety rafter that accompanies a trip will increase the overall safety margin. Our safety kayakers and safety rafters are capable of making fast, effective rescues and assisting swimmers back to their rafts.
NOTE:
many rafting companies do not provide this safety service while operating on rivers of a similar difficulty.

Best Guide-to-Guest Ratio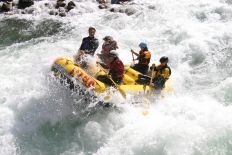 REO provides one certified guide for every 4-8 guests, the best service and safety ratio in the industry. Compare our small rafts to other "power rafting" companies that take over 20 people in one motorized raft with one guide. And don't forget "size matters! Our smaller rafts are more responsive and more fun. Why drive a station wagon when you can drive a Ferrari? We guarantee you will have more fun in our rafts and be able to brag about your paddling skills after the trip.
Comprehensive Safety Talks and Operating Standards
REO takes great pride in presenting an interesting and complete safety briefing prior to each trip. Our most experienced senior guides and safety kayakers present these safety talks. Following our talk, each guest is asked to perform certain safety drills including using proper paddle commands, pulling a swimmer into a raft and swimming an easy section of whitewater.
At difficult rapids, guests are given the option to get out of the raft and portage the rapid on shore, or to stay in the raft and assume the added risk of the paddling the advanced rapids. By providing choices, we will not exceed our guests comfort zone, and chances are they will come back time and time again. Veteran paddlers who want the most extreme runs can request to be assigned to our most hardcore senior guides.
The Right Equipment
All the best whitewater gear for rafting is provided by REO, including wetsuits, lifejackets, paddling jackets, and helmets. We offer full-body O'Neill wetsuits to maximize your comfort & safety.
All participants must sign a waiver and release of liability form prior to trip departure. REO has a perfect safety record with 35 years of operation on many of the most challenging rivers that are rafted in Canada. However, past performance does not imply that any given trip will be safe and that no losses or damages will occur. Participants must be prepared, use good judgement, and follow the safety procedures and instruction provided. Those that do not adhere to our safety standards and guidelines will not be allowed to continue the trip.