Schools & Youth: 1-Day Adventure
The Most Unforgettable Youth, Sports Team, Church or School Trip Ever! Book for September 2018 and May/June 2019
Schools 2 day/1 night
Want to create a grad memory to last a lifetime? Come to REO for a fun and exciting rafting adventure.

1-Day Rafting: Youth Groups, Girl Guides, Boy Scouts, Sport Teams
Reg $180 pp Nahatlatch or Thompson River
$CAD pp
Group 20+: Rafting + lunch + all equipment, guides, resort amenities.
$140
Group 40+: Rafting + lunch + all equipment, guides, resort amenities.Midweek/Weekend
$130
Group 60+: Rafting + lunch + all equipment, guides, resort amenities. ?Midweek/Weekend
$120
Midweek Trips: Add a FREE yoga session, canyon hike or archery session
FREE Midweek
Charter Bus Transportation: Greater Vancouver to REO return; group of 20+ /Group of 40+
$75 / $60
Fraser & Green River Canyon trips: Please call for student rates
Custom Photo CD: up to 30 excellent photos of trip (price pp; reg $45); subject to group size
$15
Chaperones: 1 FREE Chaperone + 1 FREE for every 20 youth
FREE
All prices are per person.

Add 10% taxes and fees. USD prices are based on current exchange rates.

Please call for more information 604.941.9777 | 1.800.736.7238 or email Bryan.
Cancellation Policy
Check out Our Glamping Tents, Photo Gallery, and River Safety.
1-Day Adventure for Youth, Girl Guides, Boy Scouts, Sport Teams & Church Groups:
Rafting adventure on the Nahatlatch, Coquihalla, Nicola or Thompson River (or sub canyon hike, archery, rock)
One professional REO guide per 8 students/youth
Lunch, beverages, snacks
Option to add-on extra activities at discounted rates
Full use of resort facilities and amenities; including nature trail, beach volleyball, private beach, hot tub and campfire area
Excellent discounts on overnight upgrades to river's edge glamping tents
Please note - a $80 per student deposit is required to confirm your dates. Deposit is due at the time of booking. Balance is due 30 days prior to trip.
Please add 5% GST and 5% Land and Water Access Fee to above prices.
Custom trip
We can customize a school trip to meet the exact needs of the students. Please call to discuss our options and prices.

Safety
We have an excellent safety record and a reputation as an innovator in customer care and service. Our industry-leading safety and operating standards has been able to provide quality adventure trips to over 100,000 guests from around the world! REO is fortunate to attract the best guiding talent in the country. REO also provides the right equipment for every adventure to ensure everyone's safety. REO takes great pride in presenting an interesting and complete safety briefing prior to each activity.
REO Resort facilities & amenities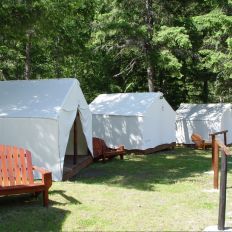 Students will also have full use of facilities including hot tub, flush toilets and hot showers. To keep students entertained, we have a beach volleyball court, campfire entertainment area, private beach and hiking trails.
Why Camp When You Can Stay in Cozy River's Edge Glamping Tents
Our popular glamping tents feature river's edge decks along the rapids of the Nahatlatch River - sleep to the sound of the river! Each unit comes with single or queen/single beds, sleeps 4-6.
Adventure Options:
Nahatlatch River rafting (April - August)
Canyon Hike, Archery, Rock (May - September)
Nicola & Coquihalla River rafting (May & June)
Thompson River rafting (August & September)
Yoga classes (June - August)
FREE Activities:

Beach volleyball

Hike on nature trail

Private beach

Campfires

Performing stage

Hot tub & entertainment area