REO Songwriters Retreat
July 28-August 2, 2019
Our 20th Annual: Basics to Advanced Songwriters Retreat
Featuring SongTown Founders Marty Dodson & Clay Mills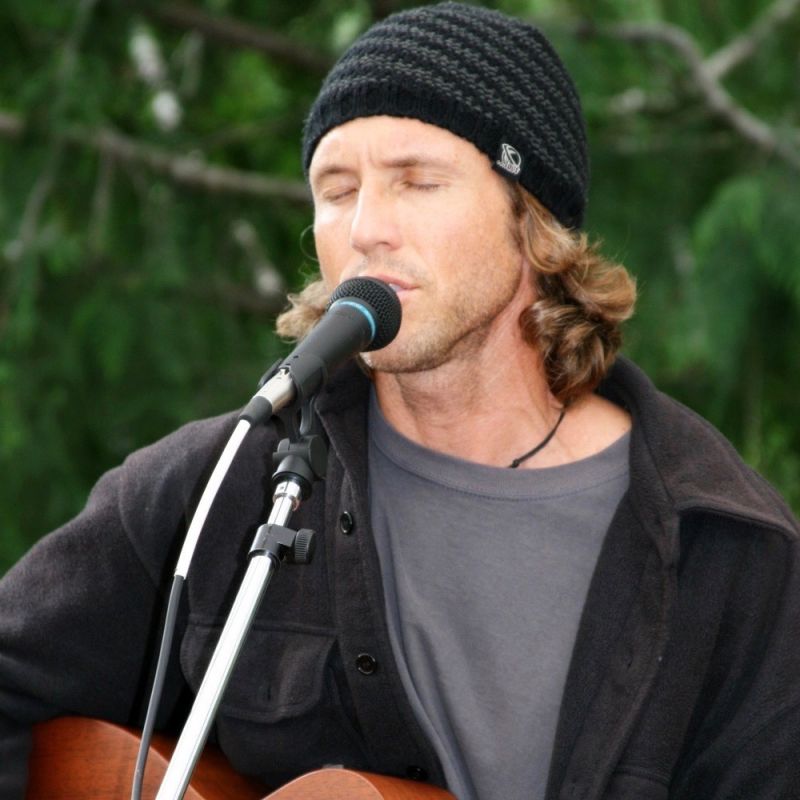 2019 Songwriting Mentors
| | | |
| --- | --- | --- |
| | | |
Marty Dodson

"Growing up in a recording and song center can be intimidating!" says professional songwriter and Nashville native Marty Dodson. "We moved to Nashville when I was five years old, I remember that it seemed like everyone who ever worked on our air conditioner or waited on us at a restaurant was trying to get into the music business." After earning a Psychology degree, Marty worked as a youth minister for several churches in Nashville. Songwriting was just a dream until he ran into his father's friend Gordon Payne, songwriter and lead singer for The Crickets. When Marty said that he wrote for fun, Gordon asked to hear his songs. "Weekend Cowboy" caught Gordon's ear, and he saw Marty's potential. Gordon helped Marty "commercialize" and demo the song, and set him up with other co-writers. This led Marty to a 5-year writing deal with Sony Music. While writing at Kim Williams Music, Marty co-wrote his first top ten single – Rascal Flatts' hit "While You Loved Me."

Since then Marty has had cuts by artists such as Carrie Underwood, Kenny Chesney, George Strait, Emerson Drive, Julianne Hough, Bucky Covington, Joe Cocker, Johnny Reid and Darryl Worley. Marty's smash by Billy Currington, "Must Be Doin' Somethin' Right," spent two weeks at #1 on the Billboard Country Charts. His Kenny Chesney single "Everybody Wants To Go To Heaven" entered the Country Chart at # 22 and spent two weeks at #1 as well. "Let Me Down Easy", became Marty's 3rd #1 single in 2011. Marty has current cuts on, The Plain White T's, Saving Jane, Joe Cocker, Dierks Bentley, Rory+Joey and Charlie Worsham.

Clay Mills

Clay Mills, a 10-time ASCAP award-winning song writer and producer, grew up surrounded by music in the Blues-rich Mississippi Delta. Over the course of his songwriting career, Clay has penned #1 hits for Darius Rucker, "Don't Think I Don't Think About It," Diamond Rio, "Beautiful Mess," and Kimberley Locke, "Fall". He collected Grammy nominations for "Beautiful Mess" and Trisha Yearwood's "Heaven, Heartache, and the Power of Love." Clay has had over 75 major artist cuts, three Number 1 hits, six Top 5 singles, and 12 Top 40 singles.

His love of all types of music shows in the diverse list of artists who sing his songs: Babyface, Lady Antebellum, Easton Corbin, Reba, Bill Gaither, Lone Star, Darius Rucker, Trisha Yearwood, Clay Walker, Kimberly Locke, and Joe Nichols. Clay's latest string of singles, co-written with Country superstar and ground-breaker Darius Rucker, includes the song that introduced Darius to the world of Country music: "Don't Think I Don't Think About It." More hit singles by Clay, "History in the Making" and "I Got Nothin'," soon followed.

Clay believes strongly in songwriters and their value to world. He has served on the NSAI board and lobbied Congress on behalf of creators and copyrights. In 2012, Clay co-founded SongTown, a 6,000 plus group of aspiring songwriters. He is personally involved in helping members advance their craft and make connections in the music industry.
Two Courses: The Basics & Advanced
This year, Marty and Clay are going to be offering two different tracks to follow at our songwriting retreat. The Songwriting 101 Track will be for beginning writers or writers who just want a refresher course on the fundamentals of creating a compelling song. The Songwriting 301 track will be fairly advanced. This track will dive deeper into the topic of the day and we'll move along at a faster pace so that we can cover more ground. Think of the 301 track as SongTown Crash courses on fast forward. There will be no writer left behind! Whatever level you are at, you'll find something to challenge you to write your best song!
SongWriting 101 - (Basics)
Day 1 - Basics of Lyric Writing
Day 2 - Basics of Melody Writing
Day 3 - Basics of writing to a track
Day 4 - Basics of writing for an artist
Songwriting 301 - (Advanced)
Day 1 - Advanced Track Writing (guided writes)
Day 2 - Advanced Writing With and For An Artist
Day 3 - Writing For Sync (Supervisor Skypes In)
Day 4 - Working With A Publisher (Publishers Skype in)
Absolutely Incredible and Inspiring Experience!
★★★★★
"I can't say enough about how amazing the songwriting retreat was at REO. So much talent and creativity. Fantastic people creating together everyday in the most gorgeous setting you could imagine!"
Gsilverakag

All-Inclusive Songwriting Retreat Package
Daily workshops & master classes for advanced songwriters
Low instructor-to-student ratio enhances intimacy and one-on-one time with mentors
Intensive co-writing sessions with songwriters and artists under the auspices of our hit writers & mentors
Get important feedback and learn from others in our semi-private critique session with your choice of one mentor

Daily social hour with wine, craft cider & beer, appetizers
Guided canyon hike, nature trails, private beach
Discounted whitewater rafting trip - the ultimate!
5 nights camping or upgrade to REO glamping tents
14 delicious meals, beverages & snacks. Vegan & GF options.
Rates
Camping/RV - Limited availability


| | |
| --- | --- |
| Sale Rate to April 30, 2019 | |
| $1195 | |

1 Person in 4-share Glamping Tent


| | |
| --- | --- |
| Sale Rate to April 30, 2019 | |
| $1325 | |
1 person in Private Glamping Tent


Sale Rate to April 30, 2019

$1875

- Double or Queen-sized bed

1 person in Private Luxe King Tent


Sale Rate to April 30, 2019

$2075

- King-sized bed, luxe decor
Spouse/Partner/Friend (non-songwriter)

| | |
| --- | --- |
| Sale Rate to April 30, 2019 | |
| $995 | |


Retreat Contact: Bryan Fogelman


Call 604-307-3122 or email Bryan
For Reservations: 1-800-736-7238

Add-ons
Whitewater Rafting

Shuttle From Vancouver to REO

Depart YVR @ 9:30 am, arrive 1 pm

Shuttle From REO to Vancouver

Depart REO @ 10 am, arrive 1:30 pm
All prices are per person (PP). Add 10% taxes & fees. USD prices based on current exchange rates. Trip locations may change due to water levels.

Questions? Call 604.941.9777 or 1.800.736.7238 or email bookings |
Cancellation Policy
Sponsored Artists
Bo Henrik

A young artist from Sweden who's music is best described as European-influenced pop music with modern flavours of Ed Sheeran, Bruno Mars and Shawn Mendes. Henrik's musical journey started at age 3 with violin lessons. This led him to guitar, drums, singing and dancing. During his teen years, Henrik's performances would blend the different arts: guitar, song, dancing and gymnastics.

Henrik performed and co-choreographed with one of Sweden's best symphony orchestras dancing and singing Michael Jackson's "They Don't Care About Us". He also performed in Stravinsky's Firebird and starred in the musical FAME. Henrik is now writing and producing songs for his debut EP as a solo artist.

North Easton

An accomplished performer and award-winning Canadian songwriter with a passion for evocative, thought- provoking lyrics and melodies. Born on Vancouver Island, the youngest of three boys, North started writing songs as an escape from his brothers with his mother (his inspiration) forbidding the older boys to pick on him when he practised piano. It's no surprise that North traded great grades for blisters and early music accomplishments: winner of 106.9 The Bear's Rock Search;

$100,000

in NEWCAP Radio's Big Money Shot & Indie Pop Album of The Year with his band Garrity.

More recently, North is the winner of the 2016 UK Songwriting Contest; winner of the 2016 International Songwriting Competition and 2015 Finalist of International Songwriting Competition. North's songs have also been featured in independent films and placed in US syndicated television.
North is a major contributor to the Ottawa song-writing community as co-coordinator for the Songwriter's Association of Canada; founding member and one of 8 prominent songwriters in the Collabor8tors song-writing initiative; Ottawa Curator for The Acoustic Guitar Project.
Check out these pictures from previous songwriting retreats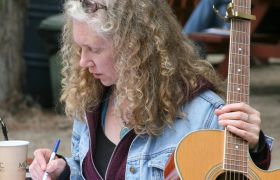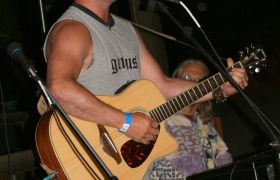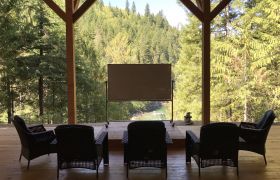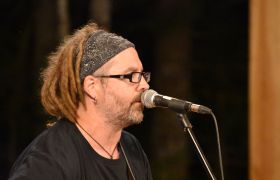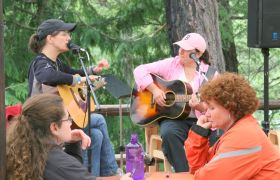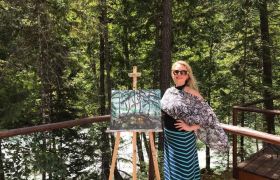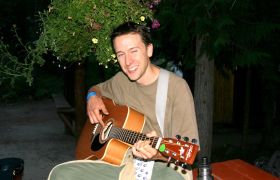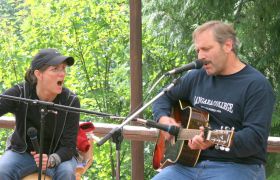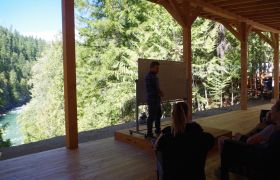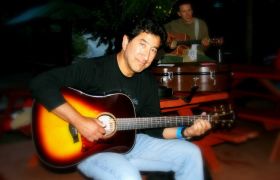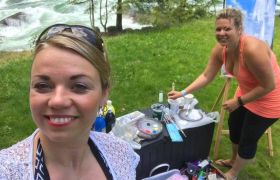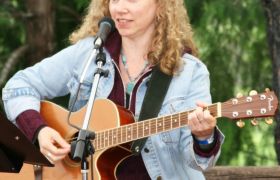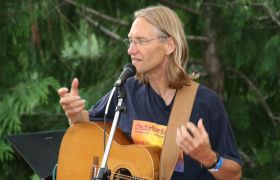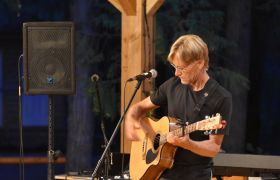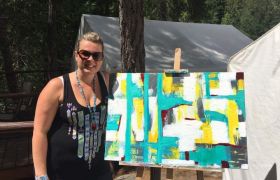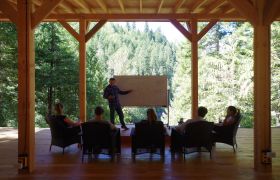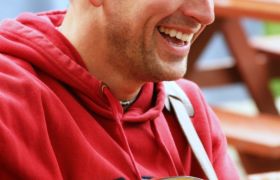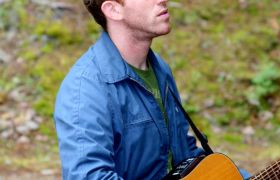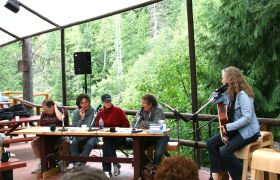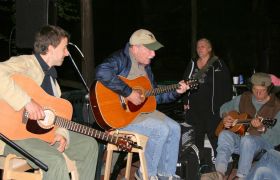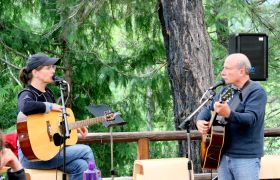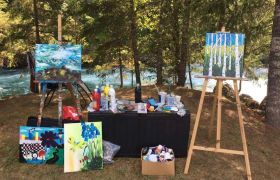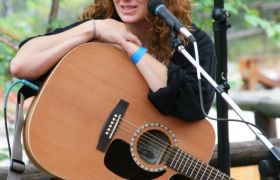 Retreat Information
Airport Shuttle

Vancouver International (YVR) is the best gateway for flights. REO offers an optional shuttle departure from YVR airport at 1 PM on Sunday July 28.

Car Share Rides / Rentals

We can help arrange car share rides with other songwriters. If you are not flying into Vancouver (YVR), you will need to rent a car.
Retreat Start Time

Please arrive at REO between 4 and 6 pm on Sunday July 28. Our first social hour begins at 6 pm with craft, beer and cider, BC wine and appetizers. All meals are included in your retreat package from Sunday dinner to Friday breakfast.

Departure Date

The retreat ends 10 am on Friday August 2nd. Our shuttle to Vancouver leaves at 10 am; we recommend flight departures after 4 pm.
Pre and Post Retreat Extensions

A pre-retreat extension is popular, especially international songwriters who choose to add a day or two at the river prior to the start of the retreat. Rates start at

$240

pp with 3 meals & 1-night glamping. Please call for details on all of our amazing pre and post-retreat package options.




Retreat Organizer

Bryan Fogelman has organized and hosted the REO retreat for the past 20 years and has learned from many of the best songwriting mentors in the world. Bryan started Blue Crush Music Ltd as a mini-label and artist development company in 2018. Bryan is writing with Bo Henrik and other Canadian and international artists. Bryan's song Crosby, Staals & Nash still receives radio airplay across Canada. www.bryanoryan.com.
---
REO Songwriter Retreat Instructor Alumni
Marty Dodson (2015-17; 2019)
Co-Founder, SongTown



Clay Mills (2015-16; 2019)
Co-Founder, SongTown


Jason Blume (2013-14)


The Business of Songwriting



Bonnie Hayes (2018)
Chair, Berklee College of Music


Deborah Holland (2018)
Director, Langara College




Jason Duke (2017)




Karen Taylor-Good (2013)


Pat Pattison (1998-2012)


Don Osborn (2011-12)




Steve Leslie (2012)




Clare McLeod (2012)