Dining - Healthy, Hearty Meals
Whether you come for a day or a week, we will do our very best to give you delicious meals, great company and the experience of a lifetime!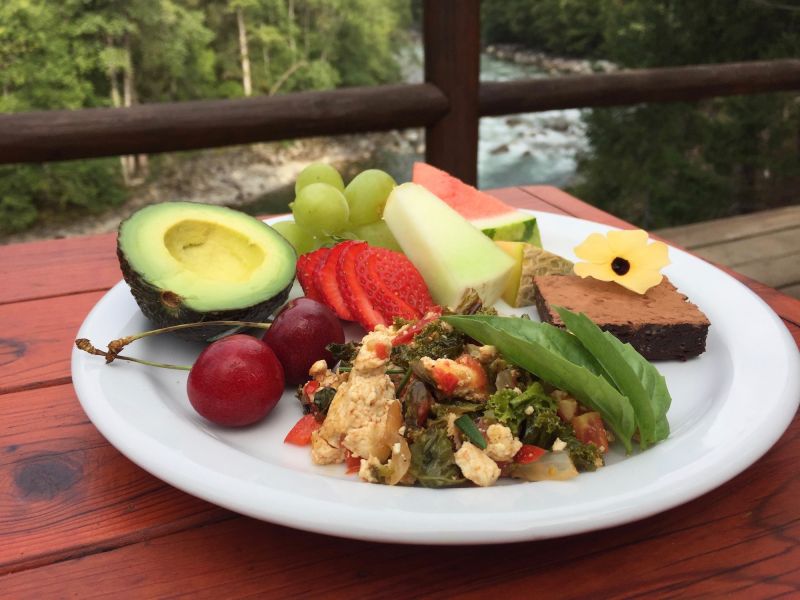 Traditional & Plant Based Meals from our Kitchen
Dinner entrees throughout the week offer a tempting variety, such as marinated portobello mushrooms, sauteed tofu, grilled BC salmon, BBQ chicken and savoury roasts. Our healthy salad selections include dynamic grains and local seasonal vegetables. Each meal contains at least one vegetarian option and fresh baking. And make sure to save room for dessert!
Lunch is varied but always includes homemade soup, delicious salads, hot and cold mains and fresh baked treats.
Breakfast offers a huge selection such as tofu scramble, eggs Benedict, oatmeal, fresh baking, fruit and tempting hot entrees. There are delicious hot and cold beverages made fresh each morning.
On the river you will be provided with cold drinks, fruit and snacks to keep your energy up while paddling.
At night enjoy the crackle and magic of the campfire as you roast a marshmallow or two.
A daily beverage bar offers fresh hot coffee, hot chocolate, lemonade and aromatic teas.
| | | |
| --- | --- | --- |
| | | |
Fresh Air and Quality Fun!

"The food was amazing - the staff are super helpful arranging top notch meals for all dietary requests."
Tawiric, 5 Stars
Vegetarian, Vegan, Gluten-free & More
We strive to accommodate all your dietary needs. Please advise the reservations office of your particular needs in advance so that the kitchen can provide quality choices for you. If anyone in your group has
food allergies
, please notify us of the specific type and severity. We will do our best to provide safe and delicious options for your dining experience. Join the REO team in 2020 for an amazing time.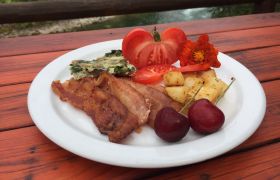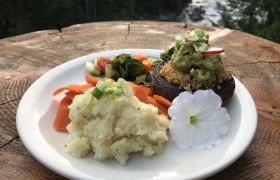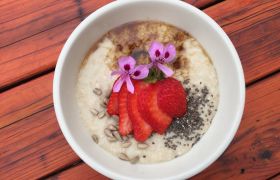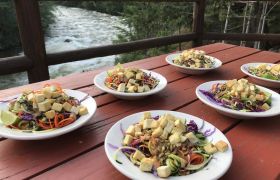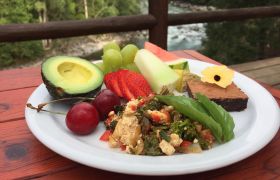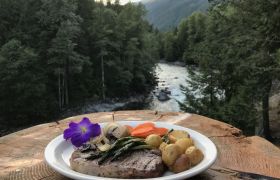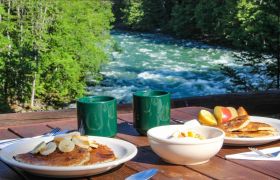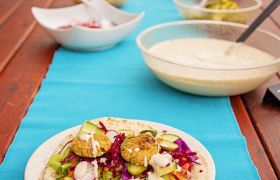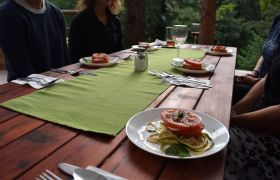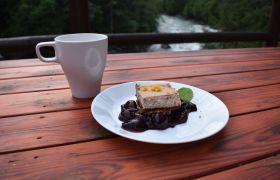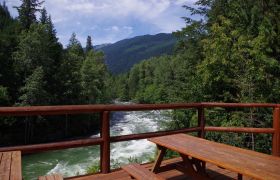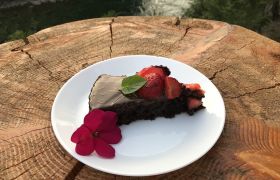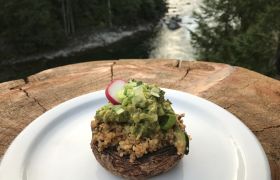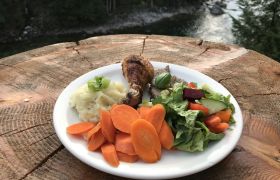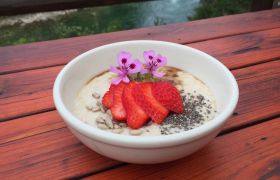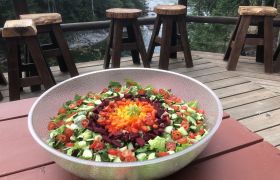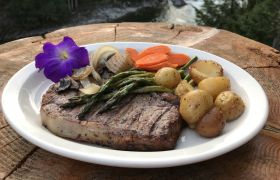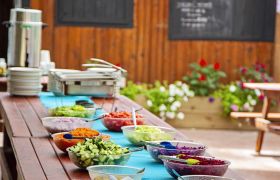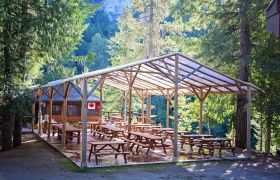 Eco Friendly Resort
"What's

not to like about REO rafting? Bryan and his crew are simply exceptional: dedicated, friendly, super competent, and always doing everything they can to look after their customers."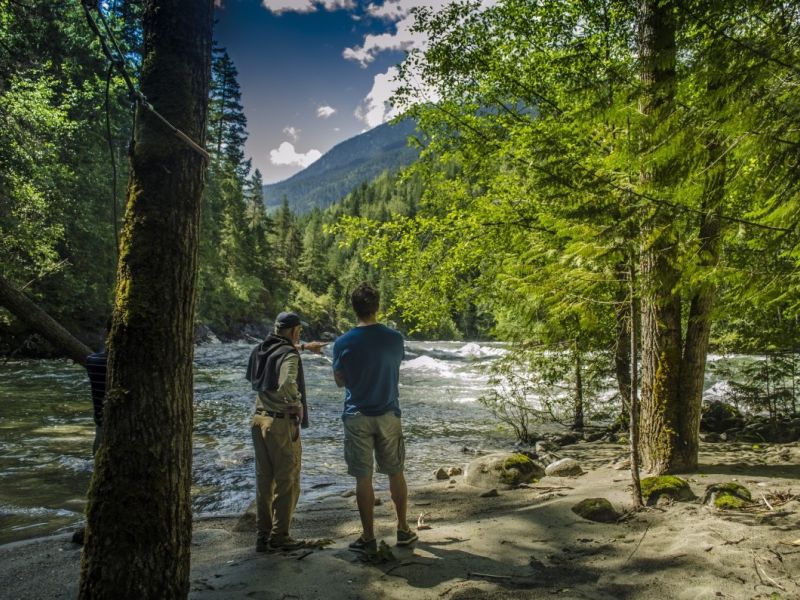 Bryan's vision was to build a resort on the beautiful property overlooking the Nahatlatch river. He turned overgrown bush into a beautiful wilderness retreat. During the development of the resort, protecting and sustaining the environment was always an important factor.
Many of the buildings around the resort are run on solar power. We have been progressively increasing our use of solar power and hope to have the entire resort operating on renewable energy in the near future.
Reusable Materials

REO reuses natural materials whenever possible. Rather than cutting down trees we search for ones that have fallen naturally in the surrounding forest and use them as frames for the glamping tents, fences and railings around the resort.



Recycling Programs

Recycling is now available thanks to recent upgrades in our nearby communities. We are excited to announce that you will see new systems in place to minimize the output of waste from the resort.
Conservation

At REO, we do not have concrete or paved pathways, we prefer to preserve the natural setting of the forest and to minimize negative impacts on the environment. Our staff put a lot of effort into leveling and maintaining our walkways.



Natural Spring Water

The drinking water that is available at our resort is from a natural spring that goes through a healthy purification system located on our property. The spring water is sourced from the surrounding mountains meaning it is clean, fresh, and free from toxins.
REO Rafting Resort's dedication to sustaining the environment and reducing our ecological footprint will continue for many years to come.
Salmon Rescue 1990's
In the 1990's there was a massive rock slide in the class 4/5 Nahatlatch Canyon section of the Nahatlatch River. The slide was so big that a lake started to form on the other side. In late August, Bryan and the resort manager, Mark de Koning, noticed that thousands of salmon started to pool into this area and were unable to find a way upstream to lay their eggs. REO contacted the department of fisheries who got us in touch with the local indigenous communities. The local people came with dip nets (15ft poles with a net on the end) to help the salmon move upstream around the slide. REO built a trail from their resort to the area so they were able to safely reach the salmon. While they were dip netting the fish, REO provided downstream safety by having rafts and qualified guides ready for any possible incidents. Everything went smoothly and they were able to save 3000+ salmon, ensuring the survival of the next generation of the species.
| | | |
| --- | --- | --- |
| | | |
Amazing Resort and Staff!!!


"I had a wonderful time at the Reo Resort. The staff are amazing. They really care

and the customer service is at it's best."
Sharon, 5 stars